Vince Young Given Citation
By Priyanka Roy Chowdhury, Gaea News Network
Monday, June 14, 2010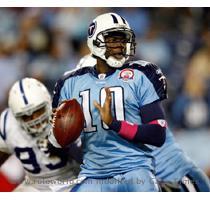 more images
DALLAS (GaeaTimes.com)- This weekend turned out to be an expensive one for Vince Young who was given a Class C citation by the Dallas police on Sunday after he entered into a fight with a man in a Dallas strip club bar named "Onyx". Although the Dallas police did not find Vince Young at the site of the crime when it arrived, there were enough evidences pointing its finger at the Tennessee Titans Quarterback player. The Class C citation means that Vince Young will need to pay a fine of $500 as a punishment.
The whole fight between Vince Young and a man named Creiton Kinchen was recorded by the security video camera of the Strip club. In the video footage Vince Young is seen punching the man who had reportedly suffered bodily injury from the assault. However, some sources claim that the player did not enter into a fight at the beginning and without any reason. He had reportedly tried to withdraw his money from the "cash cage" but had some problem about the surcharge that was being levied. Vince Young had then gone to the Club office to sort out the dispute and had also been able to settle the matter without a fight or altercation. However, all did not end up well as Creiton Kinchen then allegedly made some disrespectful remarks and gestures that infuriated Vince Young who then delivered a punch.
The Dallas police has not issued a warrant against Vince Young but will try to gather more information on the matter from the player. No arrests would be made by the police on this matter reportedly. As for the Tennessee Titans team, the spokesman of the team Robbie Bonren has said that it would look into the matter and had already spoken to Vince Young.