Zenyatta Creates History
By Swatilekha Paul, Gaea News Network
Monday, June 14, 2010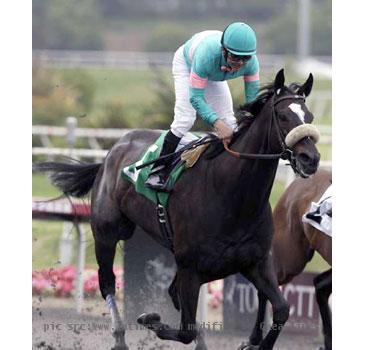 more images
INGLEWOOD, CALIFORNIA (GaeaTimes.com)- The Vanity Handicap at the Hollywood Park on Sunday held testimony to history being created on the track when racehorse Zenyatta approached the finishing line to register victory in her 17th consecutive race. The 6 year old mare went one step ahead of racehorses Citation and Cigar whose winning feat had concluded in 16 races. The $200,000 Vanity Handicap must have indeed tasted extremely sweet for Zenyatta and its owner as it enabled the racehorse to emerge as the modern thoroughbred with the longest winning streak in unrestricted races.
Zenyatta who was ridden by renowned jockey Mike Smith left behind St. Trinians by about half a length to emerge victorious in the Vanity Handicap and earn a place in history. As the 6 year old mare ran through the Hollywood Park race course within the time frame of 1 minute, 49.01 seconds before it touched the finishing line as the thousands of spectators present at the stands cheered loudly with skyrocketing enthusiasm. As Zenyatta trailed along much of the race which at a certain point of time led the spectator to doubt whether the horse would actually be able to be the first one to touch the finishing line. However, as she reached the middle of the race, Zenyatta responded well to a whip of jockey Mike Smith and went on to overtake St Trinians.
After Zenyatta won the race, owner Jerry Moss described the racehorse's feat as amazing and added that he was sure to watch the replay of her moment of victory at least 40 to 50 times. The owner also said that he never panicked during the race as he was very sure that Zenyatta would be able to win it.