Brazil against Portugal is worthy of a much later round of the World Cup
By AP
Thursday, June 24, 2010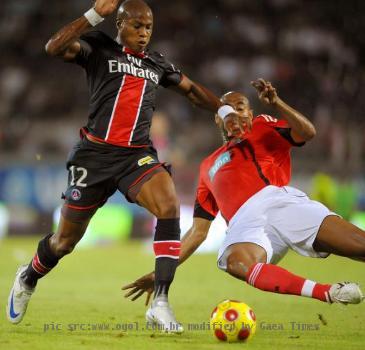 Brazil-Portugal: a juicy first-rounder
When No. 1 meets No. 3 at the World Cup on Friday, it will be in a first-round game.
Say what?
Yep, or more appropriately, sim, because Brazil and Portugal face off (10. a.m. at Durban) in Group G. The Brazilians are ranked tops in the world and the Portuguese, who once colonized Brazil, are third.
With the seeding system FIFA uses for the tournament draw, however, such an early-round meeting always is possible. When the two powers play, a spot in the second round already is assured for five-time champion Brazil, and anything but a loss should move the Portuguese into the knockout stages.
"Portugal and Brazil have what it takes to put on a great football show for the world," Portugal coach Carlos Queiroz said.
Adds Brazil defender Luisao: "There is always a lot talked about when Brazil and Portugal play. We will have to play at our best because they have a team with a lot of quality. We have to respect them. Both teams have the goal to finish first, so I hope it's going to be a good match."
Portugal's last outing was anything but. The Portuguese routed North Korea 7-0, by far the most lopsided game in the tournament. Even Cristiano Ronaldo broke his slump, scoring for the national squad for the first time since the 2008 European Championship.
Brazil struggled to get its offense on track against North Korea, then beat Ivory Coast 3-1 in classy style.
Barring a huge win for Brazil, both teams will advance. Ivory Coast needs to do something similar to the seven-goal whipping Portugal applied to North Korea to have any chance of remaining alive — and only then with a Brazil victory. Right now there's a nine-goal difference between the Ivorians and the Portugese.
Ivory Coast faces the North Koreans (10 a.m. at Nelspruit), and is hoping to get more out of star striker Didier Drogba. He has appeared in both matches so far despite having broken his right arm earlier this month, but has not made a big impact.
He scored a consolation goal in the 79th minute against Brazil, but will need help from fellow forwards Salomon Kalou, Aruna Dindane and Gervinho.
"We didn't put our chances away and failed to make the most of our counterattacks," said defender Kolo Toure. "Those are the kinds of mistakes we have to avoid against North Korea. We need to be more compact and above all do better with our chances."
The Koreans will head home after the match. Their loss to Portugal was the first North Korea game abroad to be aired live prime-time on state TV in the isolated country. It wasn't much of a display.
Spain and Chile could put on quite a display (2:30 p.m. at Pretoria), with the 2008 European champions in a precarious spot. Having lost to Switzerland and beaten Honduras, the Spaniards almost certainly must win to advance. And despite two wins on their resume, the Chileans could fall short of making the next round if they lose.
Although Spain has showed some of the flair that made its run to the Euro title so memorable, it has not found the net enough to be comfortable as it faces the South Americans.
"For us it's clear what we have to do — we have to beat Chile," said midfielder Andres Iniesta, who is available for the final group match after overcoming a right leg injury. "We've got a clear idea about what we need to do and we're confident of reaching the next round. Nothing else is important."
Chile is no pushover, for sure. It almost won South American qualifying and, at points, has looked dynamic at this World Cup.
"First and foremost, we will, as we do in all matches, stand our ground," Chile coach Marcelo Bielsa. "On Friday, we will try to again show our talents."
Switzerland's masterful defense finally was solved by Chile, but if it gets back to frustrating opponents it figures to advance for the second straight World Cup. The Swiss set a World Cup record of 559 consecutive minutes without conceding a goal before Chile's winner in their last match.
Honduras has yet to score.
Filed under:
Featured Article
,
Soccer
Tags:
2010 Fifa World Cup
,
Africa
,
Asia
,
Athlete Health
,
Athlete Injuries
,
Brazil
,
Chile
,
East Asia
,
Europe
,
Events
,
Fifa
,
International Soccer
,
Ivory Coast
,
Latin America And Caribbean
,
North Korea
,
Portugal
,
South America
,
Switzerland
,
US
,
West Africa
,
Western Europe
,
World Cup