Show Down at The US OPEN
By Shaon, Gaea News Network
Friday, September 3, 2010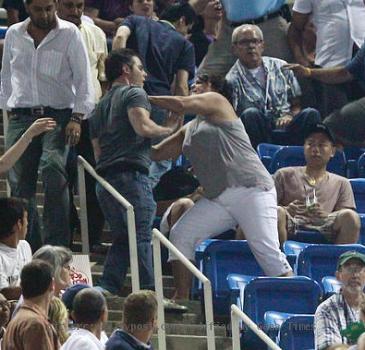 more images
NEW YORK (GaeaTimes.com) — The U.S Open, one of the most respected grand slams in any Tennis calender year was tarnished by an untoward incident. Three rowdy spectators in the upper deck of Arthus Ashe Stadium got in a free for all smack down. The match between Novak Djokovic of Serbia and unseeded Philipp Petzschner of Germany was going on at that time.
Reports suggested that the brawl started when a lady fan objected to the cussing of a male in his 20's. A war of words ensued where he told her to "Sit the F**K down. Video footage suggests that a the woman's father came down and tried strangle the man. The young man put the father down three rows of seats. The woman also got involved at some point of time, but was assaulted as well. After this incident members of the stunned audience joined in and there was a real Royal Rumble. The US Tennis Association spokesman, Chris Widmaier made the following comment
It's a hot night in New York. Things happen
But Djokovic who won to Petzschner in straight sets 7-5, 6-3, 7-6 (8-6) made the statement of the day
I hope the fans enjoyed the match and not the fight.
But looking at the audience reaction at the U.S Open as seen on a video posted in You Tube he would be sorely disappointed. Such vigor and enthusiasm is not what one associates with a docile sports like Tennis.