Favre's TD pass gives Vikings 9-7 halftime lead over Saints
By Mary Foster, AP
Thursday, September 9, 2010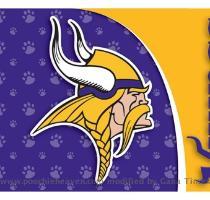 more images
Vikings take 9-7 halftime lead over Saints
NEW ORLEANS — Brett Favre's 20-yard touchdown pass to Visanthe Shiancoe late in the second quarter gave the Minnesota Vikings a 9-7 lead over the New Orleans Saints in Thursday night's season opener.
Favre was 11 of 15 for 127 yards in the first half after going 2 of 4 for 22 yards in the first quarter.
Favre drove the Vikings 64 yards on five plays for the go-ahead score. The extra point attempt was blocked.
Ryan Longwell's 41-yard field goal brought Minnesota within 7-3.
The Saints — the top offense in the league last year — needed only five plays and three completions from Drew Brees to take a 7-0 lead in the first quarter. But despite moving the team in the second quarter, New Orleans could not score again. The closest they came was after Jonathan Vilma picked off a pass by Favre, only to have Garrett Hartley's 46-yard field goal sail wide left.
The defending Super Bowl champion Saints, who scored 10 times on the opening drive last year — seven touchdowns and three field goals, — took the lead on a 29-yard pass from Brees to Devery Henderson.
Brees, who led the NFL with a 109.6 passer rating last season, completed 15 of 21 in the first half for 148 yards. One of the least sacked quarterbacks in the league last season, Brees was sacked in the first quarter, which stalled a promising drive for the Saints.
The Saints held the football for nine minutes in the quarter.
Favre, entering his 20th NFL season, looked comfortable and was well protected by the Vikings line.
Minnesota's drives were stalled by three penalties for 35 yards.
Favre had to contend with the noise in the Superdome. The Saints fans were on their feet before the game when the Super Bowl banner was revealed in pregame ceremonies and did not sit down once play began.
(This version CORRECTS Corrects spelling of Favre and Shiancoe. Will be updated after third quarter.)