Sachin's Score Fails To Get Big Lead
By Tias, Gaea News Network
Tuesday, October 12, 2010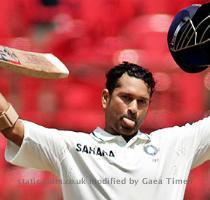 more images
BANGALORE, INDIA (GaeaTimes.com)- Sachin Tendulkar played another fine knock in the 2nd test between India and Australia. His double ton adds to the humongous record that the little master already has possesses. Though the Indian fans would have liked to see their favorite batsman stick around for sometime and score some more on Day 4, most were hoping that the Indians would take at least an 80+ lead. The middle order however failed to capitalize on the platform laid by Murali Vijay and Sachin Tendulkar and soon crumbled to the attacking Australian bowling.
Sachin Tendulkar also recorded his 49th test century earlier on Day 3. With his performance in the series the Indian little master has silence the few critics that felt that his age was a factor. Sachin Tendulkar has revealed in an interview before the series that he will continue to play as long as he enjoyed the game. Looking at his present form, his scores in the series and his penchant for running between the wickets, it looks like he can play well beyond the ICC World Cup in 2011.
Not many could have predicted that Sachin Tendulkar's magnificent knock in the 2nd test would come to an end in the hands of the newcomer Peter George. The full pitched delivery nipped back just sightly and caught the inside edge of Sachin Tendulkar's bat as he was bending low for a square drive and went on to hit the stumps. His dismissal marked the beginning of the collapse of the Indian batting and finally India wrapped up their first inning score at 495 which was a mere 17 ahead of the Australian total.