Giants-Phillies Game 6 Leads To Former's Victory
By Reema, Gaea News Network
Sunday, October 24, 2010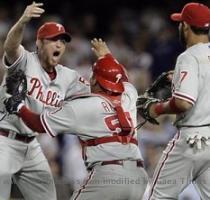 PHILADELPHIA (GaeaTimes.com)- The Game 6 of the NLCS 2010, between the Philadelphia Phillies and the San Francisco Giants, resulted in the victory of the Giants with a score of 3-2.With the victory, San Francisco Giants won the National League Championship Series with a score of 4-2.
This match was very much a deciding one, as the Giants tried to give their best shot to register a place in the World Series. Many people were expecting the Phillies to win the last game, considering its past records in this series. However, the do or die spirit for the San Francisco Giants, right from the beginning of the game, made it quite predictable, that they would make it in Game 6.
The best part of the game was in the eighth innings, of Game 6, when Giants shortstop Juan Uribe made a home run against two-out fastball relieved by Ryan Madson of the Phillies. This got the team out of the 2-2 tie, that actually created the anxiety. His drive landed straight over the railings of the right field-wall. Although Ryan Madson was not allowing any run till the 6 1/3 innings, this home run, went about three feet high, to bring a turning point to the game. Juan Uribe scored the first home run in the series, other one being scored by Cody Ross. The joint pitching of Cody Ross and Tim Lincecum, gave the Giants another step to its victory.
The San Francisco Giants, after beating the Philadelphia Phillies in Game 6, at the Citzens Bank Park in Philadelphia, Pennsylvania, will now face the Texas Rangers in World Series 2010. The World Series 2010 will start from October 27. The matches will continue till November 4 and will be covered by FOX.