Daniel Nava Creates History
By Priyanka Roy Chowdhury, Gaea News Network
Sunday, June 13, 2010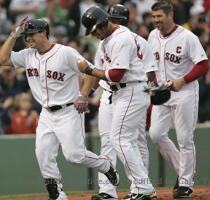 more images
BOSTON (GaeaTimes.com)- Boston Red Sox's outfielder Daniel Nava could have perhaps never imagined that he would become a sports sensation overnight, but at present that is what Daniel Nava has become. On Saturday Daniel Nava made the Boston Red Sox's 10-2 win over the Philadelphia Phillies all the sweeter with his amazing hit to the pitch he received from Joe Blanton of Philadelphia Phillies. Daniel Nava made his Major League Baseball debut memorable and historical as he became the second player to be able to hit the first pitch that he faced for a grand slam. The Boston Red Sox achieved 4 runs from the single play in the second innings and created a difference that was hard for the Philadelphia Phillies team to beat.
Daniel Nava was called from the Triple-A minor league team in Pawtucket to join the Boston Red Sox against the Philadelphia Eagles. He entered the field in the second innings of the game on Saturday and hit the fastball pitched by Joe Blanton to join the prestigious group of four players in the history of Major League Baseball who have been able to hit the grand slam in their first-at-bat in the Major League game.
However, according Daniel Nava who had gone through many rough patches in his sports career, he did not have any other chalked out plan for his Saturday debut game. The player said that he tried to play his debut game as he does in any other game. "I wanted to treat it like I normally do" Daniel Nava said. On the part of Joe Blanton, the player said that he knew that it was the debut game of Daniel Nava and that he tried to throw a "sinker away" but it did not work.