BCS Rankings Has Been Declared
By Reema, Gaea News Network
Monday, November 29, 2010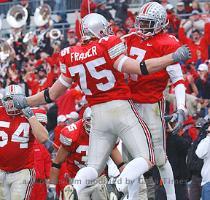 more images
SAN FRANCISCO (GaeaTimes.com)- The BCS Rankings have been determined yesterday in the evening. It brought an end to many speculations and anticipations that were surrounding the football scenario for several days. Although, it was quite predictable for those who have been following the series regularly, its formal declaration legally ended the speculations regarding which teams would clash against whom in the upcoming games, according to their ranking.
The teams that stands first in the BCS Rankings is Auburn Tigers with an average of .9779. This team overtook the Oregon Ducks by not losing a single match in the last few weeks. Oregon missed the first position by just an inch. Their respective average is .9779 and .9777. The third position went to Texas Christian University, who got an average of .9167 after defeating Boise State last week. TCU was followed by Stanford, with .8413. Wisconsin stands at fifth with .8185. Ohio State came sixth in the BSC Rankings, with an average of .7632. Michigan St. ranks seventh with a score of .6980. The teams that would qualify for the BCS Championship Game are Auburn and Oregon as they are the top two teams. The Rose Bowl will be played between Texas Christian University and Wisconsin. Texas could have played for the championship title, is either Auburn or Oregon had lost one match. The Arkansas and the Ohio State will clash at the Sugar Bowl. The two teams that have been qualified for the Fiesta Bowl are Nebraska and Stanford. The Orange Bowl will be played between Virginia Tech and Connecticut.
The BCS Rankings was based on a three tire system, that averaged the score given by BCS, Harris Poll and USA Today. The BCS Rankings was declared yesterday at 7:30 p.m.
Filed under:
Football
,
Sports
,
World
Tags:
Auburn
,
BCS Ranking
,
Bowl Championship
,
California
,
Connecticus
,
Fiesta Bow
,
Football
,
Michigan state
,
Nebraska
,
Orange bowl
,
Oregon
,
Rose bowl
,
San Francisco
,
Stanford
,
Sugar bowl
,
Texas christian university
,
United States
,
Virginia tech
,
Wisconsin