Vincent Jackson Leaves Early
By Naiwrita Sinha, Gaea News Network
Monday, November 29, 2010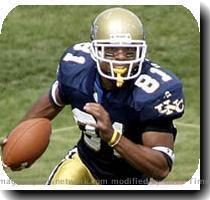 INDIANAPOLIS (GaeaTimes.com)- Sunday's match between San Diego Chargers and Indianapolis Colts saw San Diego Chargers's Vincent Jackson take an early leave from the game, after he complained of a calf injury. This was the first time the player had appeared on field after he had missed out a large number of games in this season.
The San Diego Chargers wide receiver made a short comeback staying only for the first play of the game. Vincent Jackson then said that he was suffering from a calf injury, and people present at the venue said that the player drew himself aside and was stretching his calf out on the sideline. His team had been eagerly waiting for him to take on the field. However, the San Diego Chargers were lucky enough for the day as they succeeded in beating Indianapolis Colts by a 36-14.
Earlier Vincent Jackson had missed out ten games of the season, in seven of which he was held out whereas in the other three he was in the roster-exemption list. His Sunday's performance was subjected to a good amount of speculations as the player had taken a long rest from the games. However an insider of the San Diego Chargers said that the player had appeared good during the practice sessions. No wonder the San Diego Chargers had been missing out quite a good number of players this season. All thanks to the list of injuries they are complaining of. Vincent Jackson is just another addition to the training room. News on the front has it the San Diego chargers are not expected to resign Vincent Jackson.