Notre Dame Beats USC Trojans
By Naiwrita Sinha, Gaea News Network
Sunday, November 28, 2010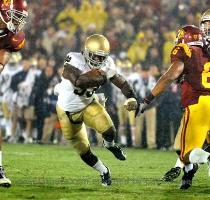 LOS ANGELES (GaeaTimes.com)- When the much needed victory arrived for the Notre Dame Fighting Irish, resulting in their third consecutive win, it was a moment of huge disappointment for the USC Trojans whose dreams of a 10 win session was crushed by the former. Saturday's game at the Coliseum saw the USC Trojans players and their team coach in a pensive state as they suffered loss at the hands of the Notre Dame Fighting Irish.
Fans of USC Trojans are still in a state of shock of not being able to believe that their beloved team has actually suffered defeat at the hands of Notre Dame Fighting Irish. USC Trojans coach Lane Kiffin left the stadium in a depressed mood as he went on to say how they had suffered defeat by not allowing the senior players to field as they had never imagined that they would be at the losing side. According to sources, the USC Trojans coach was seen telling of how tough time the team was having at the locker room.
It was not to be missed out that the coach further added that USC Trojans will be very cautious as they head for their next game against the UCLA next week. The USC Trojans have undoubtedly moved to a state of desperate grievance after having lost to Oregon State and the Irish. However, this is the third back to back victory of the Notre Dame Fighting Irish who have been able to elevate their status to a 7-5. The last time the team had won a game in the Coliseum was way back in 2000.