Syracuse Orange Wins Legends Classic
By Naiwrita Sinha, Gaea News Network
Sunday, November 28, 2010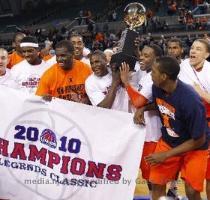 ATLANTIC CITY (GaeaTimes.com)- Saturday night once again witnessed a superb basketball game between the Georgia Tech Yellow Jackets and the Syracuse Orange where the former were beaten by the Orange brigade with the final score of 80-76. The Syracuse Orange basketball team could not stop gushing about their victory which they achieved after much hard competition. Finally they did become the winner of the Legends Classic championship at the Boardwalk Hall, in Atlantic City.
According to sources, basketball experts were seen talking of the victory as a result of the exerted will of the Syracuse Orange men against the Georgia Tech Yellow Jackets. For all those who were present last night at the Boardwalk Hall, saw the Yellow Jackets leading for most of the time during the first half. However, they succumbed all of a sudden during the later part of the game to the utter dismay of their fans. Georgia Tech Yellow Jackets' Brian Oliver had scored high 32 points in 36 minutes against Syracuse Orange's 2-3 zone. He made six 3-pointers, but the Syracuse Orange players managed to suppress him to six points in the final 14 minutes taking the game to their side.
The Syracuse Orange basketball team was successful in holding their rivals scoreless for about 7:13 minutes in the second half, and went on to score high with a 16-0, which included the first eight points. Syracuse Orange coach Jim Boeheim admitted of how well Brian Oliver had played and that he was certainly worried about whether his team would be able to taste victory during Saturday's game. However, the coach was not led to disappointment, as Scoop Jardine made a jumper with 10:37 left, which ensured his team's victory.