Michigan State Spartans Denied Victory
By Naiwrita Sinha, Gaea News Network
Wednesday, November 24, 2010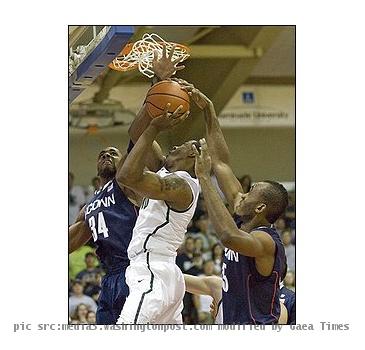 more images
LAHAINA (GaeaTimes.com)- The Connecticut Huskies are back once again. Tuesday saw the Connecticut Huskies beat No.2 Michigan State Spartans at the Maui Invitational in Lahaina, Hawaii, thereby regaining there lost esteem. It seems that the UConn are trying to rebuild themselves as a team after a dismal 2009-10 season.
Undoubtedly, the basketball game offered excitement every minute from every inch as the Huskies battled the mighty Spartans. For quite some time the Connecticut Huskies have not been able to draw some achievement on their side. The 2009-2010 season had ended up with a disappointing result for the Connecticut Huskies, who this time were desperate to come back with some winning streak. Tuesday victory finally paved their way. For those present to witness the game realized it well that it was not an easy win for the Connecticut Huskies, who every moment had to fight hard their opponents. The Michigan State Spartans are not easy to deal with. But this time victory sided away from the No. 2 champs, finding the place with the Huskies who knocked off the Michigan State Spartans giants with a 70-67 result.
Kemba Walker scored 30 points helping his team Connecticut Huskies knock down the Michigan State Spartans. An interesting touch was added to the game when the Huskies missed out five late free throws. No body at that time had thought they would end up as the winner. The team was lucky enough that they survived Draymond Green's midcourt heave at the buzzer. Connecticut Huskies coach Jim Calhoun was seen in an overjoyed mood when he said that his team had achieved a superb team victory. Michigan State Spartans coach Tom Izzo as expected sounded depressed adding that they would have won the basketball match had a few things not failed to work out.