San Diego State Defies Navy Midshipmen
By Naiwrita Sinha, Gaea News Network
Friday, December 24, 2010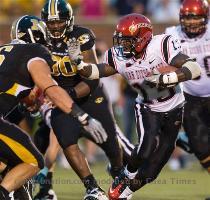 SAN DIEGO (GaeaTimes.com)- Irrespective of the slick field at the Qualcomm Stadium, San Diego last night, the home team did wonders after they successfully knocked off rivals Navy Midshipmen by a score of 35-14 at the Poinsettia Bowl. The night turned out one of extreme joy not only for the San Diego State team but also for the San Diego ardent fans who had braved the weather conditions and turned up to witness the record setting victory of the home team. Yes record winning because firstly, the team had clinched victory after several long years and secondly for the record set by Ronnie Hillman.
Owning to the bad weather conditions that the region had been experiencing due to the constant torrential rainfall it was a big question as to whether the match would finally take place or not. However, organizers stood to their words without changing the dates after they successfully pumped out 1.5 million gallons of rain water out of the Qualcomm Stadium. This enormous task took place overnight before the match. The night turned out to be joyous not only for San Diego State but for Ronnie Hillman personally as well. The fresh man had set a record with his 228 yards rushing on 28 carries for the night. He scored the runs with 22, 37, 2 and then a successful 15 yard scoring pass from Ryan Lindley.
With this he broke the previous record of 129 yards after surpassing the 2005 one set by Navy's Adam Ballard. Last night's victory of the San Diego State which saw them crushing the opponents was something that came to them after a long period of forty years. Last time they had emerged victorious was years back in 1969. The match saw players slipping and sliding down several times. However, the trouble undertaken by the San Diego boys at the end proved worthy from every inch.