Wally Judge Leaves Kansas State Wildcats
By Reema, Gaea News Network
Tuesday, February 1, 2011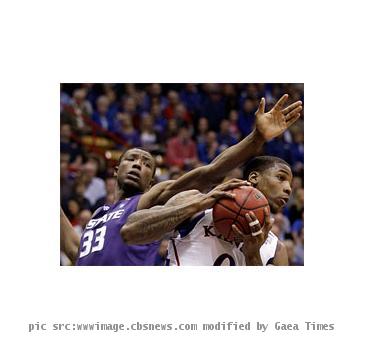 more images
KANSAS CITY (GaeaTimes.com)- The fans of Kansas State Wildcats underwent utter disappointment when they came to know that one of their most competent players, Wally Judge is about to quit the team. The news was confirmed today by the coach of the basketball team, Frank Martin.
Frank Martin said that Wally Judge was not happy with the team any more and has been suffering from an "emotional situation" for the last few days. Even the coach has been noticing, that the player was not at the best of his spirit, for some unknown or undisclosed reasons. However, Frank Martin is also supportive about the player's decision, who according to him, has been one of the most productive forwards of Kansas State Wildcats. He said that if he was not happy playing for the team, then there is no point sticking to it. Although Frank Martin was aware of the situation from before hand, and was emotionally ready for the consequences, the players of the team were rather taken aback. Curtis Kelly, senior forward, said that he was surprised when he came to know about it. He also said that lately, the team has been facing a lot of tough situation, that most of them are finding hard to deal with and Wally Judge's decision was one of them.
Wally Judge played 17 out of 22 games this season, with an overwhelming average of 5.5 points, 15.2 minutes and 3.8 rebounds, which is better than any other players in the team. According to the sources, after sophomore Wally Judge calls for the quit, the team would be left with two open scholarships. Walk-on Victor Ojeleye might now be considered as a scholarship program, for the rest of the season, as reported by Frank Martin.