"Sweet Child Of Mine" Performed At Halftime
By Reema, Gaea News Network
Monday, February 7, 2011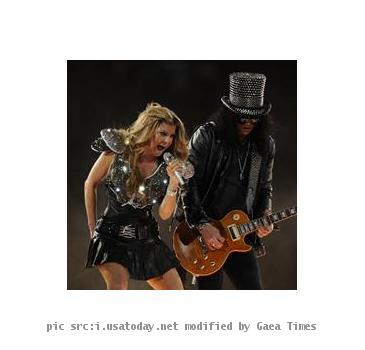 ARLINGTON (GaeaTimes.com)- It has been long since people, on a mass scale, have been dying to witness a performance by one of the most legendary hard rock bands of all time, Guns N Roses. The Super Bowl, that took place at the Cowboy stadium in Arlington yesterday, finally gave a moment of delight to all the fans of Guns N Roses, as the latter grooved to their most celebrated hit of all times, "Sweet Child Of Mine".
However, it was not the entire band that performed. Only the lead guitarist of the band, Saul Hudson, better known as Slash, emerged all of a sudden to perform on "Sweet Child Of Mine". The long haired hat lover, joined none other than the much hyped Fergie, who made this performance one of the most memorable one, in the entire event. Not too many people knew that a sizzling performance by Slash was awaiting them amidst the half time of the Super Bowl. However, when he emerged with his guitar, he was received with a huge round of applause and a larger than life scream. As Fergie lent her beautiful voice to the song, Slash did what he is exactly best at, that is, playing guitar. All of a sudden, the performance revived the old memories of the retro era. And one has to agree that it could have been far from captivating, had it been sans of technical faults.
Many sources say that there was a consistent sound problem all through out the performance of "Sweet Child Of Mine". Yet, another group of fans said that it was incomplete without Axl Rose. Fergie tried her best to rich the standard set by Axl Rose himself, but her performance was just average, when compared to the legendary rocker.