Williams runs for 2 TDs to cap record-setting freshman year as Va Tech top Tennessee 37-14
By Charles Odum, AP
Thursday, December 31, 2009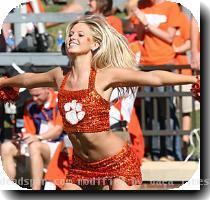 more images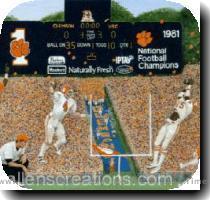 more images
Williams runs for 2 TDs to lead Va Tech past Tenn.
ATLANTA — Almost four months after opening its season with a loss to a Southeastern Conference team at the Georgia Dome, Virginia Tech returned to show how much it had improved.
The Hokies also showed they'll be a team to watch in 2010.
Ryan Williams capped a brilliant first season with a record-setting game, running for two touchdowns to power the Hokies past Tennessee 37-14 in the Chick-fil-A Bowl on Thursday night.
More than one Virginia Tech player mentioned the team's 34-24 loss to Alabama on Sept. 5.
"We started the season here, and we wanted to finish it strong here," Williams said.
Added receiver Danny Coale: "I was happy to get another chance at the SEC. We wanted to come out and prove something. It was very important that we got another chance on a national stage."
Quarterback Tyron Taylor completed 10 of 17 passes for 209 yards and ran for a touchdown, and Josh Oglesby and David Wilson combined for 67 yards rushing and a touchdown. Jarrett Boykin caught four passes for 120 yards.
All the playmakers are expected back next season. Virginia Tech coach Frank Beamer couldn't hide his excitement about the Hokies' future.
"We've got some guys we're proud of," Beamer said.
The Hokies (10-3) took the lead with a field goal in the final seconds of the first half and outscored Tennessee 20-0 in the second half on their way to a sixth straight 10-win season.
The only team with a longer active streak is Texas with nine.
Williams, a redshirt freshman, had 117 yards rushing to become Virginia Tech's single-season leader with 1,655 yards. Williams also set ACC records with 21 rushing touchdowns and 22 total touchdowns this season.
"I just saw green," he said. "When I see green, I take advantage of it."
The Hokies outrushed Tennessee 229-5.
"Ryan was something tonight, particularly at the start of the second half," Beamer said. "We got after them good."
Tennessee's star running back, Montario Hardesty, could not keep up. The senior had 18 carries for 39 yards and a touchdown.
"We got gassed, we got tired," said Tennessee defensive end Chris Walker. "You could tell especially on defense we weren't making plays. … Ryan Williams is a really great player."
Tennessee quarterback Jonathan Crompton was taken to a hospital after the game because of an undisclosed injury late in the game, a school spokesman said. He wasn't the only loss for the Vols; junior safety Eric Berry confirmed afterward that he will enter the NFL draft.
Tennessee (7-6) was hurt by two turnovers that led to 10 points for Virginia Tech, and a dropped pass that cost the Vols a touchdown.
"For whatever reason, we didn't play well today," Tennessee coach Lane Kiffin said. "I was surprised we weren't able to run the ball better."
Rashad Carmichael intercepted a pass by Crompton in the first quarter to set up Williams' first TD run. Crompton fumbled when sacked by Nekos Brown late in the fourth quarter. John Graves recovered at the Tennessee 13 to set up Matt Waldron's third field goal, a 22-yarder.
Virginia Tech players dumped a cooler of water on Beamer seconds later. Virginia Tech fans in the sellout crowd of 73,777 cheered, and Beamer raised his fists in response. The Hokies, who won the Orange Bowl last season, have back-to-back bowl wins for the first time.
Williams sat out the fourth quarter with a left ankle sprain. Beamer gave the fourth-quarter carries to Oglesby and Wilson, who had a 3-yard touchdown run with 5:14 remaining.
Williams passed Kevin Jones' school-record record of 1,647 yards rushing set in 2003.
North Carolina's Don McCauley held the ACC records with 19 rushing touchdowns and 21 total in 1970. Clemson's C.J. Spiller matched the total touchdown mark this season. Georgia Tech's Robert Lavette also rushed for 19 touchdowns in 1982.
Williams was voted the game's most outstanding player.
Waldron, who had a 21-yard field goal at the end of the first half, added a 46-yarder — the longest of his career — to push the lead to 27-14 early in the fourth quarter.
Tennessee's had a chance to get back into it, but Denarius Moore dropped a deep pass from Crompton on the Vols' next drive. Kiffin said the play "really took the wind out of our sails."
Crompton was 15 of 26 for 235 yards passing with a touchdown and an interception.
Williams had two short touchdown runs to give the Hokies a 14-0 lead in the second quarter, then Hardesty ran through 301-pound defensive tackle Cordarrow Thompson for a 4-yard score that capped an 80-yard drive.
Janzen Jackson's interception set up Crompton's 2-yard touchdown pass to Moore with 18 seconds remaining in the first half.
Instead of running out the clock, Taylor threw from his 33 to Boykin, who was stopped inside the Vols 5 as the clock apparently expired. Tennessee players left the field but were summoned back as a video review showed Boykin's knee hit the ground with 2 seconds remaining.
Waldron's field goal gave Virginia Tech a 17-14 halftime lead.
"That was a big play, no question," Beamer said. "The (Vols) were thinking they were going in tied up but all of a sudden we were leading."
Filed under:
Football
Tags:
Athlete Health
,
Athlete Injuries
,
Atlanta
,
Clemson
,
College Football
,
College Sports
,
Frank beamer
,
Georgia
,
Nfl
,
North America
,
Sports
,
Tennessee
,
United States