Miesha Tate Wins Over Hitomi Akano
By Reema, Gaea News Network
Saturday, August 14, 2010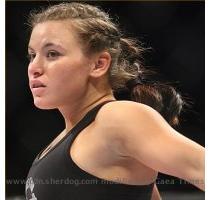 more images
more images
PHOENIX (GaeaTimes.com)- Although the main event of the Friday night's Strikeforce Challengers 10 card was the Joe Riggs and Louis Taylor fight, few will disagree to the statement that it was the Strikeforce women's one-night, four-woman tournament in the division of 135-pound, that captured all the attention. Miesha Tate on Friday came up with some amazing tactics and fight moves to win a shot at the championship belt. After winning the first bout against Finnish fighter Maiju Kujala, she went for a three-round unanimous decision over Hitomi Akano in the final. However, the win had in no way diverted the attention of Miesha Tate who now wants to fight Sarah Kaufman later this year.
On Friday night, Miesha Tate first took the ring against Maiju Kujala. The former was able to take down the latter many a times during the bout and put on display her experience as a fighter. However, the win was not a cake walk for Miesha Tate as Maiju Kujala in Round 2 came up with a strong jab and went for some strong offense moves. However her late jabs failed to make any impact and Miesha Tate won the bout with unanimous decision in her favor.
In Miesha Tate's next and final bout with Hitomi Akano, the fighter was seen keeping her best foot forward. Although in the first round Hitomi Akano went for a foot lock, Miesha Tate was able to reverse her lead in the second and third round. She continually wrestled down Hitomi Akano with gut wrench. In Round 3, Miesha Tate got the opportunity to go for a rear naked choke but failed to extricate a tap from Hitomi Akano. She then resumed to punches till the final bell and won the game with a unanimous decision.