Brett Favre Wife's Reaction Over Pictures
By Naiwrita Sinha, Gaea News Network
Tuesday, October 12, 2010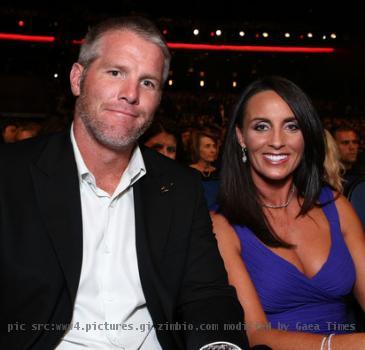 more images
SAN FRANCISCO (Gaea Times.com) As the sexting scandal of Brett Favre gains momentum, people cannot help but wonder about the reaction of his wife Deanna Favre. Though not much is known about what is currently going on between them, Deanna Favre has become the center of discussion for many. She is being reportedly compared to Elin Nordegren, wife of Tiger Woods on sports forums and sports talk, radio. Deanna Favre has not yet spoken or commented on the scandal yet. Brett Favre has been accused of texting lewd messages and nude pictures to Jenn Sterger, including a pic of his own penis. The whole scandal is being carefully followed by people on a sports website, Deadspin. NFL officials are investigating the matter and Brett Favre could face suspension if the allegations are found true.
There are mixed reactions from the people themselves regarding the messages and pictures. While some think that the allegations are true while others are totally against believing it. However, Deanna Favre had reportedly written in her autobiography in 2007 about an incident before their marriage, which does raise some questions on Brett Favre's loyalty. His wife wrote that in the mid 1990's when Brett Favre was reportedly abusing booze and Vicodin, she knew that "there were other women at those places where Brett and his friends were partying". While most assumed that she was plain jealous, Deanna Favre caught him speaking to a woman on the phone.
Deanna Favre had then reportedly told him that she could not tolerate such behavior and had decided to leave. Brett Favre had sent her flowers the next day and begged her to come back. Deanna Favre changed her mind and came back after a conversation with wife of the Packer's quarterback coach, who said that, "Don't leave or Brett will end up Killing himself". A bit disappointing to his fans perhaps but Brett Favre may have been guilty of sending those messages and picture.