Brett Favre Sexting Pics Scandal
By Naiwrita Sinha, Gaea News Network
Tuesday, October 12, 2010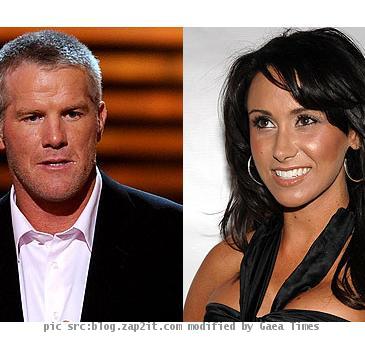 more images
SAN FRANCISCO (Gaea Times.com)- Brett Favre Sexting pics scandal will be investigated by NFL officials. Brett Favre finds himself in a soup over allegations of having sent lewd text messages and nude pics of himself to a sports writer and playboy model, Jenn Sterger during the 2008 season . When Brett Favre was questioned on the issue he said that he is too busy with the Jets and does not have time for anything else. He reportedly apologized to his team mates on Monday for being such a distraction. The voice mails which he allegedly sent to Jenn Sterger, along with his naked pics, has been posted on a sports website.
He is said to have sent her a pic of his penis as well. The scandal has become a hot search on the web. His fans are registering a mixed reaction. While some are convinced of him being guilty, others simply refuse to believe it. The investigation by NFL officials can have disastrous impact for Brett Favre, if he is found guilty of sexting. Brett Favre can face suspension if the investigation reveals that he is responsible for having sent nude pics and messages to Jenn Sterger.
NFL says that they will be moving aggressively to find out if the allegations are true or not. Their commissioner on Sunday said at the Chargers- Raiders game on Sunday that they are attempting to understand all facts, and added "We'll make a determination from there". Brett Favre is married to Deanna Tynes and has two daughters, Brittany and Breleigh. Apart from allegations of sexting nude pics and messages to Jenn Sterger, he is said to have pursued two massage therapists who worked for the team.