Deadspin Reveals Brett Favre Jenn Sterger Scandal
By Mayuri, Gaea News Network
Friday, October 8, 2010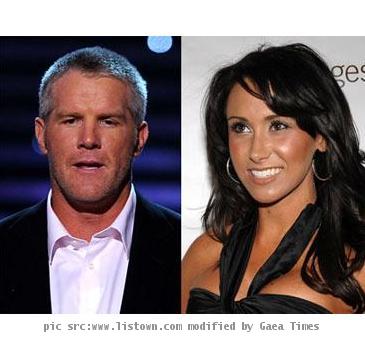 NEW YORK (GaeaTimes.com) – New York Jets Number 4 player Brett Favre is on the limelight now, not because of his career in sports but he has been allegedly caught in Deadspin of sending sexy messages and photos of his penis to Jenn Sterger.
Jenn Sterger, a sideline reporter has been linked with Brett Favre before but this time the scandal that has erupted seems to amaze the public. Deadspin has recorded a video containing voice mails of Favre to Jen asking her to come to his hotel room. The message plays like this:
Jen just got done with practice, got meetings here, in a couple more hours I'm going back to the hotel to just chill, so send me a text, um, cause … Ill be in the hotel for a couple of hours … come over tonight … but uh, … but …if you, might give you my number, or … gimme a text, love to see you tonight, take to you later by.
Deadspin has also revealed that Brett Favre has allegedly sent photos of his penis to Jenn. Can you imagine? What's wrong with Jets Brett Favre? Favre has declined to comment anything on this new allegations of his and Jenn scandal.