Kris Jenkins Tears ACL Again
By Reema, Gaea News Network
Wednesday, September 15, 2010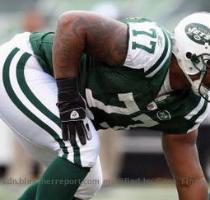 more images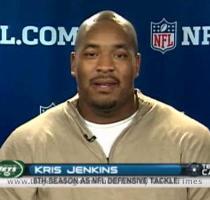 more images
NEW YORK CITY (GaeaTimes.com)- It is just the beginning of yet another football season and already some of the prospective players are getting out of the season due to injuries. The New York Jets suffered a major loss on Monday when its defensive tackle Kris Jenkins suffered a torn anterior cruciate ligament in his left knee. The player who had just recuperated from a surgery in his left knee could hardly last on the opening game for a quarter. Kris Jenkins suffered the injury on Monday night at the opening game against of the New York Jets against the New York Jets.
The 10-year veteran, Kris Jenkins was hurt during the opening quarter of the Monday game which the team lost by 10-9. The extent of the injury suffered by the player, who was seen wreathing with pain of Monday night, was determined on Tuesday after an MRI exam. The MRI revealed the critical ACL injury which is supposed to keep the player out of the field for yet another season. Kris Jenkins had to move out of the field midway last year after he suffered the same kind of injury in the same leg. At that time a graft from a hamstring was used to correct the problem. The Monday night game was the first for Kris Jenkins after his return from the injury.
On Monday, after the New York Jets' 10-9 loss to the Baltimore Ravens, the Coach of the team, Rex Ryan said to media sources that obviously the loss of Kris Jenkins is "going to be a huge blow" for the team. Adding that he feels bad for Kris Jenkins, Rex Ryan maintained that the team might include some veterans.