Andre Johnson Fined For Sunday's Fight
By Naiwrita Sinha, Gaea News Network
Wednesday, December 1, 2010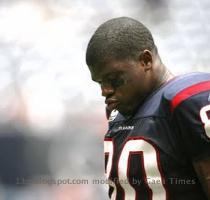 SAN FRANCISCO (GaeaTimes.com)- Andre Johnson got lucky this time, escaping a suspension which was quite possible owing to his un-sportsman like conduct in Sunday's match between his team Houston Texans and the Tennessee Titans. Andre Johnson had got into a nasty fight with Tennessee Titans' corner back Cortland Finnegan for which he had to pay of $25,000. That Andre Johnson has not been suspended came up as a confirmation on Tuesday from a NFL spokesperson.
However, Andre Johnson is not the only one who has been fined. Cortland Finnegan too joined him paying the exact amount of fine for his misconduct. According to the match reports Cortland Finnegan was the one who had invited the fight with him hitting Andre Johnson's face mask. This had drawn forth Andre Johnson's wrath and he in an extreme fit of rage pulled away Cortland Finnegan's helmet and then gave him some punches on his face and shoulder. The match referee had to expel both the players from the game where the Houston Texans won by a 20-0. A source told the media that Cortland Finnegan already has a reputation of being a dirty player on the field. However, Finnegan's agent has gone to defend his client by saying that Cortland Finnegan has been given a villainous portrayal.
After the news came of the fine came up, Andre Johnson wrote in the Houston Texans' website that though he was happy that he was not suspended for the fight but at the same time he was disturbed by his own actions. The wide receiver had apologized for his conduct later on. On the other hand, Tennessee Titans coach Jeff Fisher has said that Cortland Finnegan did not do any such thing which could have got him suspended.