Bowl Schedule Fixed For 2011
By Reema, Gaea News Network
Monday, December 6, 2010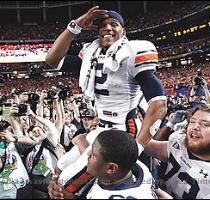 more images
SAN FRANCISCO (GaeaTimes.com)- The BCS standings have determined the Big Ten's representative of the Bowl games. After week fourteen, the BCS standing has altered a little bit. For example, Boise State, who lost to Nevada last week on Friday, has dropped from no.3 ranking to no.11, this week. On the other hand Auburm has replaced Oregon at the no. 1 position after its 28-27 win in the Iron Bowl at Alabama. This has finally decided the Bowl Schedule for 2011.
According to the BCS standing, the no.1 Auburn and no.2 Oregon, will compete for the Title championship, BCS National Championship. The average score of Auburn is .9779, while that of Oregon is .9777. Texas Christian University, that lies in the no.3 position, with an average score of .9167, will compete in the Rose Bowl against Wisconsin on January 1, 5:10 EST. At this point Wisconsin holds the fifth position, with an average of .8185. Stanford at no.4, will play against the Virginia Tech for the Orange Bowl on January 3, 8:30 EST, although Virginia Tech holds the fifteenth ranks with an average of .4396. The Bowl Schedule has decided to put the Sugar Bowl on January 4, 8:30 EST, where Arkansas will clash against the Ohio state. Arkansas holds the seventh position with .7189, while its opposition, Ohio State holds the sixth position with with .7632. Oklahoma, ranking ninth, will play against Connecticut in the Fiesta Bowl, even though the latter could not secure a rank between the top fifteen teams in the BCS ranking.
The other Bowl Schedules have also been determined. Michigan State will face Alabama in the Capital one Bowl, while Outback Bowl will be fought between Penn State and Florida on January 1. On the same day, Michigan will clash with Florida for the Gator Bowl, to complete the Bowl Schedule for four teams of Big Ten vs. SEC matchups.
Filed under:
Football
,
Sports
,
World
Tags:
BCS National Championship
,
Bowl Schedule
,
California
,
Capital one bowl
,
Fiesta bowl
,
Gator bowl
,
Orange bowl
,
Outback bowl
,
Rose bowl
,
SEC Matchup
,
Sn Francisco
,
Sugat Bowl
,
United States