Shaun Marcum Heading For Milwaukee Brewers?
By Naiwrita Sinha, Gaea News Network
Monday, December 6, 2010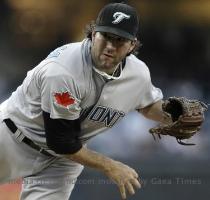 LAKE BUENA VISTA (GaeaTimes.com)- The buzz in the baseball circle has it that Toronto Blue Jays starting pitcher Shaun Marcum is likely to be sent to the Milwaukee Brewers. This is the latest news that has come up in the Major League Baseball's Winter meetings circle. Although the winter meeting is slated to begin today but impatient team managers and officials were anxious to discuss and finalize deals a day ago. The news has not come up as any confirmation on the part of either of the teams.
However, that does not stop rising to speculations. According to a witness present in the conference spot, there has been talks regarding the trade between the Toronto Blue Jays and the Milwaukee Brewers circled around Shaun Marcum. In all chances, the replacement are to be taken by Brett Lawrie. Mat Gamel's name is also being considered as a probable replacement. It is being said that the discussions for this exchange between the two teams took place in the later hours of Sunday night. Chances of an official announcement today is being counted in. The deals prior to the baseball winter meetings are the outcome of the early arrival of the team officials who cannot wait to strengthen their respective teams.
After this buzz shot up, Milwaukee Brewers general manager Doug Melvin on being questioned about the probable trade in strictly refused to give any answer adding that since nothing is complete he will choose not to pass any comment. Last season Shaun Marcum went for a 13-8 with a 3.64 earned-run average for the Toronto Blue Jays. If he is sent off the Blue Jays are likely to face a big gap.