Tedy Bruschi Honored Last Night
By Naiwrita Sinha, Gaea News Network
Tuesday, December 7, 2010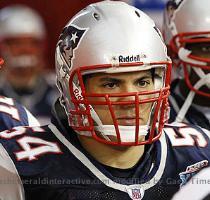 FOXBOROUGH (GaeaTimes.com)- Last night turned out to be special for former New England Patriots player Tedy Bruschi when he was honored by the team for the brilliant performance he had rendered out for the team during his career. Monday night was a big celebration for the New England Patriots after the team crushed the New York Jets by a score of 45-3 and then engaged itself in the honor ceremony of one of its best players. ardent fans of the Patriots present at the Gillette Stadium had a great time witnessing all this.
Tedy Bruschi had announced his retirement last year which had seen the usually quiet Bill Belichick naming him as one of the best players. The fans were already taken into excitement by the stupendous performance of the team, to which came up the honoring of their favorite Tedy Bruschi. During the half time of the match, the ceremony began on the stage in the midfield where team owner Robert Kraft escorted the Bruschi family. Robert Kraft marked the beginning of the ceremony saying how much talented the player was and that he was the heart and soul of the New England Patriots. according to sources, fans at the stadium cheered aloud. The team owner added to their excitement when he asked Patriots fans if they wanted to see Tedy Bruschi back again in his famous No. 54 jersey. No doubt what the crowd answered back.
As Robert Kraft pulled out a No. 54 jersey and gave it to the former player, Tedy Bruschi was quick enough to take his jacket out and put on the prestigious jacket. He went to thank every one from his family, fans ,team owner to his coach, without forgetting to add that he was proud that he had played only for the Patriots.