Casey Matthews Inspired By Mom
By Tias, Gaea News Network
Tuesday, January 11, 2011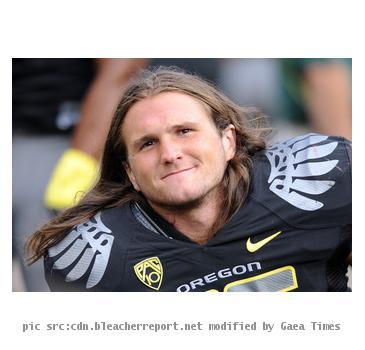 more images
SCOTTSDALE (GaeaTimes.com)- How can you keep Casey Matthews away from being a most-talked-about name in the NFL when almost all members of his family have sometime or the other been a part of the National Football League? This Oregon linebacker had remained steadfast all through the game that took place last night against Auburn Tigers. Unfortunately, it was not his day. His team lost to the opponents despite trying his best. The player recorded 3 sacks, 73 tackles and 3 interceptions during his association with the Oregon Ducks this year.
Casey Matthews comes from a background of players. His dad Clay Matthews Jr. had remained a prominent player of NFL playing for Cleveland Browns while his uncle had remained a Hall of Fame linesman. The Oregon Player's brother is known to play as a linebacker for the Green Bay Packers. Seems like the player is carrying forward the legacy of his family with the sporting prowess that he has been displaying. While talking to a media outlet, Casey Matthews said that his mom asked him to be "slightly insane" with last night's game. That proved to be a driving force for the player as he tried his level best to keep up to the words of his mom but lady luck was not on the side of his team.
Last night's game might have turned out to be a complete disaster for his team, Oregon Ducks but Casey Matthews' sporting skills have not gone unnoticed. He tried his level best all throughout last night's game, but failed to ensure his team's victory as the Oregon Ducks lost to the Auburn Tigers by 22-19.