Jim Harbaugh- New San Francisco 49ers Coach
By Naiwrita Sinha, Gaea News Network
Saturday, January 8, 2011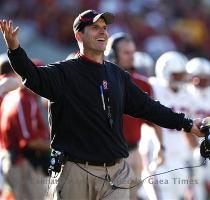 SAN FRANCISCO (GaeaTimes.com)- It is the perfect New Year start for Jim Harbaugh whose hands are right now full with lucrative prospects. The former Stanford Cardinal head coach on Friday bagged a lucrative deal with the San Francisco 49ers whom he impressed with his successful college football coaching career. Until now he had been reigning as the successful Cardinal coach and now he has landed in the NFL domain. The San Francisco team hired him for a whopping $25 million deal.
It was a dream come true for the former Stanford coach who after the confirmation of the news could not hold back his emotions. The freshly recruited coach of the San Francisco 49ers assured the officials of his new team that he would render his best shot for the team. Interestingly Jim Harbaugh was seen coming up with some honest confessions when he said that his ultimate goal was to attain the Lombardi Trophy which is considered to be a prestigious one. The Orange Bowl results in favor of the Stanford Cardinals had actually opened the avenues for him.
Ever since the Cardinals notched the victory against Virginia Tech becoming the champions of the Orange Bowl, speculations started rising that Jim Harbaugh may very soon land himself with any of the NFL teams. The speculations now a reality has secured Jim Harbaugh a safe place with the San Francisco 49ers for a tenure of five years. His name was also being considered by the Michigan Wolverines. Earlier he had been with Stanford for four years. Jim Harbaugh has been hired by the 49ers after they fired Mike Singletary a few days back.