Marvin Lewis To Leave Cincinnati Bengal
By Reema, Gaea News Network
Tuesday, January 4, 2011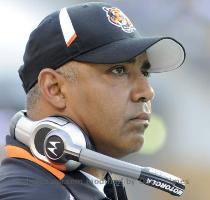 more images
CINCINNATI (GaeaTimes.com)- Marvin Lewis and the president of Cincinnati Bengal, Mike Brown, had a prolonged meeting on Monday, regarding his future in the team, yet no official announcements are to be made until Tuesday, when the meeting would conclude to arrive at a final verdict.
Sources say, that Marvin Lewis was quite dissatisfied with the team for more than one reasons. He wanted the high authorities of the team to create a personnel department, increase the number of scouting staff and an indoor practice facility. He also wanted the entire team to have a consistent philosophy. However, that never happened for the last nine years, ever since he was recruited as the head coach in 2003. Most of the players in the team do not want him to leave. Offensive tackle Andrew Whitworth said that it is a "personal stuff to deal with". He also added that since players are free agents and are entitled to make their own decisions, even Marvin Lewis, as a coach should be enjoying the same rights. Therefore, as a team, they should concentrate on drafting a way, that would enable them to play together, under any situation. On the other hand, Defensive coordinator Mike Zimmer, who might be the next head coach, in case Marvin Lewis steps down, said that all of them had a meeting with Marvin Lewis, but he refused to comment further on that. Chris Crocker, said that their head coach is not being honest in telling anyone that he wants to come back to the team, although he personally wants to.
Marvin Lewis has headed Cincinnati Bengal for the last nine years consistently. Unlike other teams, where coaches were constantly fired and replaced, he has rigid with his team. If Marvin Lewis steps down, then he may be recruited as the head coach, either by San Francisco 49ers or University of Pittsburgh.
Filed under:
Football
,
World
,
Wrestling
Tags:
Andrew Whitworth
,
Chris Crocker
,
Cincinnati
,
Cincinnati Bengal
,
Marvin Lewis
,
Mike Brown
,
Mike zimmer
,
Ohio
,
San francisco 49ers
,
United States
,
University Of Pittsburgh