Georges St-Pierre VS Josh Koscheck Updates
By Naiwrita Sinha, Gaea News Network
Sunday, December 12, 2010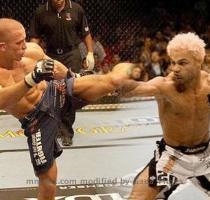 MONTREAL (GaeaTimes.com)- On Saturday night Georges St-Pierre once again went on to claim his much coveted UFC 124 title. The welter weight champion knocked off opponent Josh Koscheck last night to win the fight for 50-45. To his pleasure it was a win that had come from the cards of all the three judges. The maddening crowd of 23,152 fans, present at the Bell Center witnessed the triumph of the 29 year old Canadian over rival Koscheck.
After the fight, Georges St-Pierre in an interview said that he could not reach his destined goal that night. He claimed that he had aimed to take Josh Koscheck completely out and admitted that his rival was indeed a tough competitor. The fight saw Georges St-Pierre in the fifth round carving up Josh Koscheck' face with his jab and tormenting his legs with several kicks in order to defend himself. In the first round of the fight he had jabbed Josh Koscheck' face and closed his eyes. As a result of the attack launched on him, Josh Koscheck could not get a better vision in his right eye throughout all the four round of the final. This caught referee Herb Dean' attention for quite some time.
The fight witnessed Georges St-Pierre going for many take downs, but somehow Josh Koscheck survived by getting to his feet pretty fast. Georges St-Pierre did not throw too many combinations as a result of which rival Koscheck did not face the problem of being stopped. By this time Josh Koscheck' face was badly beaten and bruised. After the fight ended with the unanimous decision victory for Georges St-Pierre, the two were seen hugging each other inside the ring. At this moment the winner declared out to Koscheck that he had indeed given a good fight to him.