Heisman Trophy Winners Hog Limelight
By Arnab Ghosh, Gaea News Network
Sunday, December 12, 2010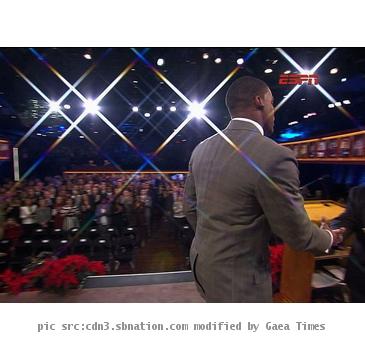 more images
MANHATTAN (GaeaTimes.com)- The win of Auburn Tigers quarterback Cam Newton in the race for the prestigious Heisman Trophy did not come without the caveats. The player who has given commendable performance this season managed to edge ahead of other three contenders who made it to the final round. Despite the win which has made his team proud, the possibility of returning the trophy looms large. The player's name was involved in a pay for play scandal and his father was allegedly responsible for it. An NCAA investigation followed which gave the player clean chit. Otherwise he would not have qualified as a contender for what is known as the most prestigious prize in college football.
Cam Newton was given the Heisman Trophy at the end and no one argued his selection over the other finalists. While his win has not surprised many people, what has come as an unexpected development is the treatment meted out to Kellen Moore who is the Broncos quarterback. He got the 4th place which the fans did not take in a good spirit. Cam Newton tried to maintain calm and stay balanced when his name was declared and his mother basked in the glory. His father ducked the event to avoid any media controversy.
When the name of the Heisman Trophy winners was declared the Broncos fans were visibly upset. Some of them were enraged over the win of Cam Newton and they shouted his name as 'Scam Newton' at the event. However, a section of the fans tried to draw consolation from the fact that Kellen Moore may get a chance next year.