Bill Simmons: The New ESPN Commentator
By Reema, Gaea News Network
Saturday, December 11, 2010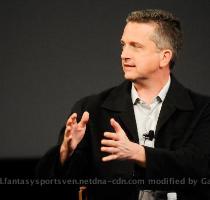 more images
OAKLAND (GaeaTimes.com)- Bill Simmons made a remarkable statement as a commentator, when he accompanied Dan Shulman and Mark Jackson in the NBA match that took place between Miami Heats and Golden State Warriors yesterday. This was the first time that ESPN assigned Bill Simmons to take up this role. Many people were under the impression that he would not be able to take up this role with perfection. But the dbutante commentator proved them wrong and executed the task really well.
Bill Simmons was extremely excited about doing his "stand-up" introduction to the game. But after that, he proved himself to be many folds better than the rest of his counterparts, taking up all those topics that not too many people would like to talk about while commenting live. According to him, Dan Gadzuric is playing harder these days and is going to be a free agent than what he was during his lucrative contract with Milwaukee. He was also bold enough to state that the lack of confidence towards Erik Spolstera, from the part of the Miami Heats player was mainly a result of LeBron James' camp. He did not hesitate to give up his diplomacy to call the spade a spade. His two other targets were Dorell Wright and Reggie Williams, whom he skill fully criticized without offending them.
However, Bill Simmons was modest enough to not take up the entire limelight and dominate the telecast with his speeches. He gave ample of opportunity to his two other co-commentators, Mark Jackson and Dan Shulman, by stopping himself when they required to speak and then resume it once they were done. Critics said that his content was good and technically sound, with oodles of confidence that came out through his thorough research. However, another group of people believe that his voice was high pitched and a bit feminine that sounded monotonous at times.
Filed under:
Basketball
,
Sports
,
World
Tags:
Bill Simmons
,
California
,
Dan Gadzuric
,
Dan Shulman
,
Dorell Wright
,
Erik Spolstera
,
Golden state warriors
,
Lebron james
,
Mark Jackson
,
Miami Heats
,
Nba
,
Oakland
,
Reggie Williams
,
United States