Freddie Jackson: Hope Of New Hanover Wildcats
By Naiwrita Sinha, Gaea News Network
Tuesday, November 30, 2010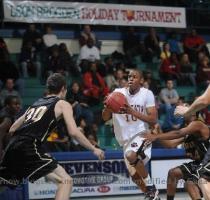 WILMINGTON (GaeaTimes.com)- Freddie Jackson is the one, upon whom the New Hanover Wildcats are keeping their fingers crossed. The young player is supposed to the one who would be leading his team in the basketball floor in the forthcoming season. In the last season, the New Hanover Wildcats had come away with the Mideastern Conference boys basketball title and had made their way to the quarterfinals of the season in an exhilarating fashion.
According to insiders in the New Hanover Wildcats basketball team, the team is right now bubbling in a re-energized spirit and has sworn to make a dashing come back. A source told the media that the boys are gearing up to put an extra doze to the efforts. Although the team's two low-posts who lead them through in most of their games are gone, the New Hanover Wildcats have not lost their hope. All thanks to Freddie Jackson who is also a good rebounder for a guard on both ends of the floor. The team's coach Kirk Angel said that through the entire pre-season and summer the team solely concentrated on one particular thing, which is nothing else but to increase the speed which will lead them to their ultimate motive.
Freddie Jackson's team mates are all praises for him, whom the coach believes to be a master of athletic poise. According to sources, the team thinks that they cannot have had a better lead than Freddie Jackson. Last time he had posted 18 points and given 10 assists in the match against Fayetteville Terry Sanford, although the team lost the game by a 74-68, nevertheless the point guard's talent did not go unnoticed.