Jesse Jackson Criticizes Dan Gilbert
By Madhusmita, Gaea News Network
Monday, July 12, 2010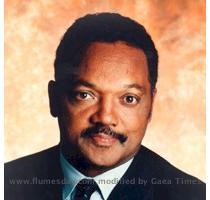 more images
LOS ANGELES (GaeaTimes.com)- Jesse Jackson, the baptist minister denounced the comments of Dan Gilbert yesterday where the former mentioned that he found the comments to be mean, arrogant and presumptuous. The civil rights activist condemned the open letter which Dan Gilbert, the owner of Cleveland Cavaliers wrote in their official website where he accused LeBron James for leaving the team and joining Miami Heat. Jesse Jackson criticized his letter as according to him LeBron James was not bound to play under Dan Gilbert's plantation and be debased in dignity and social standing.
Jesse Jackson commented about Dan Gilbert's letter saying that the accusations endangered LeBron James as his jersey was burnt in effigy and he was projected as a betrayer by Dan Gilbert. The owner of the Cleveland Cavaliers Dan Gilbert released an open letter for LeBron James after the NBA player announced that he had decided to play in Miami Heat. Dan Gilbert called LeBron James as narcissistic and heartless and regarded his exit from the team as "cowardly betrayal". The owner even said in the letter that LeBron James would take the curse with him to Miami Heat. For Jesse Jackson, these comments proved that Dan Gilbert wanted to portray Lebron James as "runaway slave".
Jesse Jackson repudiated Dan Gilbert's statements showed that the latter owned LeBron James and not Cleveland Cavaliers. Dan Gilbert's harsh words personified the slave master mentality of the owner. The open criticism of Jesse Jackson has surprised Cleveland Cavaliers fans as the comments gathered mixed reaction from the people. The media is more keen to know what Dan Gilbert has to say about it, but he was not found for any comments.