Jimmy V Classic Updates
By Naiwrita Sinha, Gaea News Network
Wednesday, December 8, 2010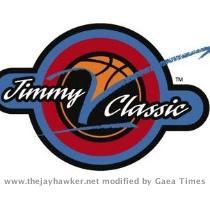 NEW YORK CITY (GaeaTimes.com)- It was celebration time for all those Syracuse Orange fans present at the Madison Square Garden at New York City on Tuesday night as the Orange men defeated the Michigan State Spartans. The No. 8 Syracuse Orange ousted the No.7 Michigan State Spartans by a score of 72-58 in the Jimmy V Classic.
Rick Jackson senior forward of the Syracuse Orange was seen keeping himself in tune with his high scores of this season with 17 points and took away 16 rebounds, resulting in the victory of his team in the Jimmy V Classic. Syracuse Orange guard Scoop Jardine went for 19 points with Kris Joseph adding 14 points off the bench. From the Michigan State Spartans guards side Durrell Summers came up with 18 points and Korie Lucious added 10 points. By the time half time started the Syracuse Oranges had succeeded in building a 38-29 lead, but soon the Michigan State Spartans stormed into and took the upper hand taking themselves to a 48-46. This was the time when Rick Jackson shot for an offensive rebound and scored making it 50-46. With him as the lead, the Orange men succeeded in dominating the Spartans and finished with a 42-24 advantage on points. Draymond Green of the Spartans hit a free throw when 12:24 minutes were left making the scores for a 50-47. Syracuse managed to end the game on a 22-11 run.
After last night' Jimmy V Classic match Michigan State Spartans have come to face a fourth consecutive loss to the Syracuse Orange. Tom Izzo, Michigan State coach who is considered to be one of the best college coach in terms of rebound with regard to his team was absolutely mum after the loss and refused to make any comment as to what affected his boys.