Phil Jasner Passes Away
By Tias, Gaea News Network
Saturday, December 4, 2010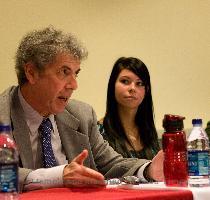 more images
PHILADELPHIA (GaeaTimes.com)- Longtime Sixers beat writer and news writer, Phil Jasner breathed his last on Friday. The well known sports writer died after long battle with cancer at the age of 68. Colleagues and other followers of the prolific writer have taken to the web to express their sorrow at the news of his death. Several fans have also offered condolences to his family at this difficult time.
Rich Hoffman, his colleague and fellow news writer paid an emotional tribute to Phil Jasner after the news of his death. In the tribute, Rich Hoffman spoke about the work ethics of Phil Jasner and also said all his office colleague fondly remember him for his kindness, fairness and generosity. Fans who followed his work called him the fair voice of the Philadelphia basketball community. Though an old-fashioned news writer, Phil Jasner was known for covering everything from college level basketball to the NBA. Rich Hoffman also described Phil Jasner as a man who had an intense love for information. He said that whenever Phil Jasner had some valuable information, it was evident from his face that he was excited to share it.
Ed Stefanski, the 76ers GM spoke about Phil Jasner and said that the man absolutely loved the sport. He explained that he often had long debates with him and felt that he was a very fair and interesting man. For his excellent work spanning over a career of almost 4 decades, Phil Jasner was chosen for induction by 5 Halls of Fame which included the Naismith Basketball Hall of Fame, Theater's Hall of Fame and the Philadelphia Sports Hall of Fame.