Cam Newton: Heisman Trophy Winner
By Arnab Ghosh, Gaea News Network
Sunday, December 12, 2010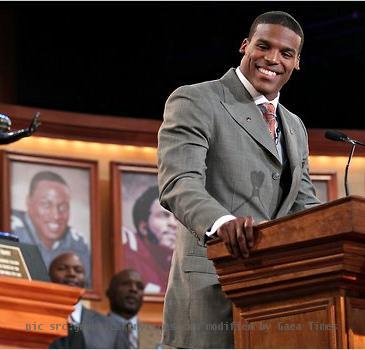 more images
MANHATTAN (GaeaTimes.com)- Auburn Tigers quarterback Cam Newton was declared the winner of the prestigious Heisman Trophy yesterday and with this feather in his cap, the player emerged clear out of the controversy surrounding him lately. The award ceremony which is usually an excitement filled one proved to be rather muted this year. Cam Newton accepted the trophy and his proud mother watched his son accepting the trophy. The player smiled and then bowed his head as his name was announced. However, there was nothing very intense or emotional about the event.
Cam Newton won more than 82 percent of total votes to emerge triumphant in the gala ceremony that was held last night. At second placed was Andrew Luck who is the Stanford quarterback. The third spot went to LaMichael James, the running back of Oregon Ducks. As a matter of fact, Cam Newton had to face a number of hardships in his professional life this season but he proved that he has the guts to face them and emerge as a winner. At least the voters did not get affected by the NCAA investigation. A reporter asked the Auburn quarterback whether he would return the Heisman Trophy in future if his name gets in some other controversy. He replied in the negative.
Cam Newton has played consistently well this season and that has gone a long way in winning the trust of the fans and his teammates. His father stayed away from the award ceremony to evade any further controversy but his mother was there at the Heisman ceremony. It is likely that the scrutiny on him will remain for some time even though the NCAA investigation did not find anything amiss about him.