Brandon Vera Broken Nose Needs Surgery
By Reema, Gaea News Network
Monday, January 3, 2011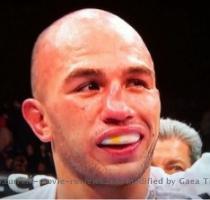 more images
LAS VEGAS (GaeaTimes.com)- Brandon Vera probably had the worst fight of his life against Thiago Silva, at the UFC 125 in Las Vegas. All those who witnessed the match was left with nothing but sympathy for Brandon Vera, as not only Thiago Silva won the match with an unanimous decision of 30-26, 30-27 and 30-27, but also broke his nose to dis-shape it. Now the light heavy weight fighter needs to undergo an immediate surgery in order to get it realigned, before he enters the Octagon.
Right before entering into the match, that broke his nose, Brandon Vera said in a statement that he is now a different person, as he has lost his arrogance and gives full respect to his opponents. However, no one knew that all of a sudden, he would became so 'respectful' that he would not even make an attempt to hit his opponent in the cage, out of his newly acquired virtue and regards for his fellows. All through out the match, Brandon Vera was lying on the ground, getting constantly struck by Thiago Silva, with several punches, ground game, clinches and takedowns. The winner dominated all the three rounds of the match, that continued for 15 minutes, and out of these fifteen minutes, thirteen minutes were dedicated to one sided linear attacks from Thiago Silva to Brandon Vera. Almost all the time, Brandon Vera was protecting his face with his hands, but he still could not resist the strikes. Whenever Thiago Silva was on top of him, he got terrified, with little or no resistance.
When Brandon Vera entered the cage, he was in a good health and physical condition. Many people thought, that after two consecutive straight loss in the last two games, this time he might emerge as the winner. However, the match has only broken Brandon Vera's nose, and led him to the third consecutive defeat.
Filed under:
Sports
,
World
,
Wrestling
Tags:
Brandon Vera
,
Broken Nose
,
Las Vegas
,
Nevada
,
Octagon
,
Surgery
,
Thiago Silva
,
UFC 125
,
United States