Terrelle Pryor Suspended
By Swatilekha Paul, Gaea News Network
Friday, December 24, 2010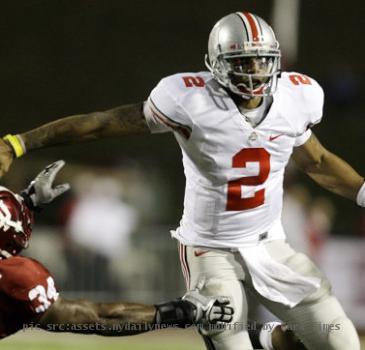 more images
COLUMBUS (GaeaTimes.com)- The 2011 season is not going to kick off in a good note for Ohio State Buckeyes quarterback Terrelle Pryor. The player would not be able to participate in the first five games of the next season as he has been suspended by the NCAA over allegations that he is guilty of selling memorabilia as well as other awards and in turn receiving benefits. As per the rules and regulations followed by the NCAA, student-athletes are barred from getting any kind of benefits from their status which are not available to the general public.
Apart from Terrelle Pryor, four other players of the Ohio State Buckeyes are facing suspension from the NCAA which includes star wide receiver Devier Posey, left tackle Mike Adams, defensive lineman Solomon Thomas as well as Daniel Herron. Although the player would not be able to play in the first five games of the upcoming season, they would be available for the Sugar Bowl which slated to take place on January 4 in which the Ohio State Buckeyes would be facing off against the Arkansas Razorbacks. Meanwhile, it has been reported that the players who have been found guilty of taking the benefits are likely to repay the money as well as the gifts to the tune of $1,000 to $2,5000.
Sources say that Terrelle Pryor is the one who has been mostly affected as he might have to shell out $2,500 for being responsible for selling his 2008 Big Ten championship ring and a number of other gifts that was given to him by the university. Meanwhile, Ohio State University Athletic director Gene Smith has not been available for any comments.