Matt Flynn Makes A Smooth Ride
By Reema, Gaea News Network
Monday, December 20, 2010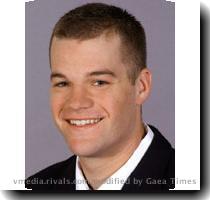 more images
FOXBOROUGH (GaeaTimes.com)- Matt Flynn was the main game for Sunday's NFL, that clashed between Green Bay Packers and the New England Patriots at the Gillette Stadium. Although Green Bay Packers lost the game with a slight margin of 31-27, it was Matt Flynn who revived the spirit of the team with his rigorous performance. He threw 251 yards and three touchdowns and completed 24-of-37 passes.
However, it seems that despite the great performance, all that was in his mind was the defeat that they suffered. Matt Flynn said in an interview that although he put in some of the best efforts with his great moves, there was something lacking in the team as a whole. He regrets that he made a few "mental mistakes on reads", which made the ball slip off his hands twice. At the bottom line, they did not formulate the game as strategically as it was required to and that is exactly what is bothering the team right now. However, personally, this comparatively inexperienced player's performance was much better than the senior quarterback of the Patriots, Tom Brady. Where Matt Flynn made 3 touchdowns with 1 interception, with 251 yards and finished 24-of-37 passes, Tom Brady finished 15-of-24 passes, with two touchdowns for 163 yards. However, Matt Flynn was sacked by Tully Banta-Cain at New England's 16 yards line on on 4th-and-2, that resulted to a fumble. Never the less, his poise and stamina was appreciated by the entire team after the match was over.
Matt Flynn feels that although they lost the game, they matched up with the New England Patriots really well in terms of offense, as they ran the ball much in their favor. Initially they decided to make their opponent's game a bit "lose", but for some reasons that was not materialized. He also thanked Aaron Rodgers who boosted his morale and gave handy tips just before the game.
Filed under:
Football
,
Sports
,
World
Tags:
Aaron rodgers
,
Foxborough
,
Green Bat Packers
,
Massachusetts
,
Matt flynn
,
New england patriots
,
Nfl
,
Tom brady
,
Tully Banta-Cain
,
United States