Brandon Marshall Suffers Injury
By Naiwrita Sinha, Gaea News Network
Friday, November 19, 2010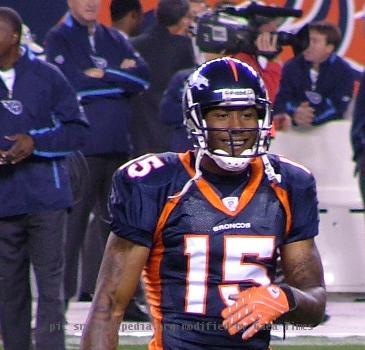 MIAMI (GaeaTimes.com)- Thursday's game between Miami Dolphins and the Chicago Bears turned to be critically injurious for the Miami Dolphins as one of their best man Brandon Marshall suffered an injury resulting in the defeat of his team. The Miami Dolphins lost the game to its rivals by 16-0.
Until Wednesday Brandon Marshall's name was nowhere to be seen in the team's list of injured players, when his name finally featured in the list as a result of a hamstring injury. It seemed like the list was awaiting his name eagerly and finally got completed with the addition of Brandon Marshall's name. For those who were present to witness the game, felt that Thursday was not the day for the Miami Dolphins with the Chicago Bears giving a good chase to their opponents. Miami Dolphins were struggling to mark their score but all in vain. The day came out as a day of sufferings for the Miami Dolphins whose players continued to complaint about injuries. Along with the hamstring injury complaint of Brandon Marshall, came up one more health complaint by another of the team's players, Chad Henne.
Brandon Marshall, the wide receiver of the Miami Dolphins complained of the injury after an 18-yard reception, when only 1:25 were left before the second half. Brandon Marshall had three catches for 41 yards before he left the field. The Miami Dolphins player was delivered to the locker room on a cart. The second half of the game saw him watching the match helplessly, from the other side of the field in his casual wear. The injury was paired up with an insult when Brandon Marshall was penalized for his unsportsmanlike conduct after he chucked the ball at Chicago Bears quarterback Jay Cutler.