Jonathan Brookins Bags The UFC 12 Championship
By Reema, Gaea News Network
Sunday, December 5, 2010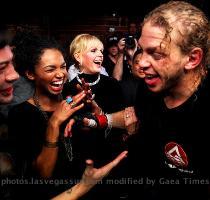 more images
LAS VEGAS (GaeaTimes.com)- Jonathan Brookins was pumped up with the spirit of celebration as he won over Michael Johnson in the last The Ultimate Fighter 12 Finale in Las Vegas, with an unanimous decision victory in just three rounds. His score card read 29-28, 29-27 and 29-28 for the light weight title.
After the victory all that Jonathan Brookins wanted to do is celebrate his victory with his family. The champion however does not want to make a big issue for his victory. He said in an interview that he still wants to be remembered as "the guy who fought Jose Aldo once". He also said that several people frequently bring that up, as he is more popularly known for the massacre of that particular fight. Jonathan Brookins has slowly started accepting that he is more recognized for that particular event, and has started enjoying that too. However, he was also happy with this victory and with a whole lot of humility, he said that he still has a lot more to improve. Winning against Michael Johnson was not a big surprise for him. He said that even in his house, he was the best athlete, who was anticipated to have a long career in the field of sports.
Sources said that his 24 year old opponent Michael Johnson, had a great potential, but only lacked enough stamina. That is the reason why despite having a marvelous start, he was unable to sustain his performance, when he was offered with constant takedowns in the next two rounds. Jonathan Brookins however, only had good things to say about Michael Johnson. He said that he was stunned with the power of Michael Johnson, who is known for beating down people. Jonathan Brookins also said that Michael Johnson is an incredible competitor.