Ed Reed's Brother Missing
By Tias, Gaea News Network
Saturday, January 8, 2011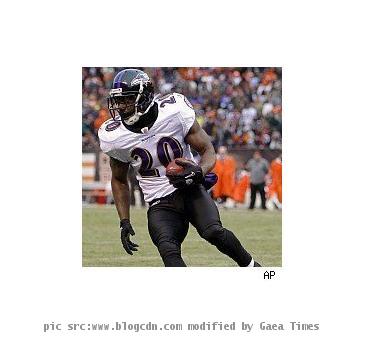 more images
LOS ANGELES, (GaeaTimes.com)- Baltimore Raven's safety Ed Reed's brother, Brian Reed reportedly went missing on Friday after he allegedly jumped into the Mississippi river to elude police. Police in St. Charles Parish have since been on a massive search hunt. According to the officials, the suspect (Brian Reed) jumped into the river and went 15 feet down not to resurface again although some eye witnesses say that his head and hands surfaced at one point. There has been no trace of Brian Reed since.
According to reports, it all started when the officials stopped Brian Reed's car after it nearly ran another vehicle off the road. As per the officials, 29-year-old Brian Reed was allegedly driving a stolen car. While being confronted by the officials, Ed Reed's brother tried fleeing from the place when the authorities tried to take him down by handcuffing him. Brian Reed reportedly jumped off into the river near the border between Kenner, La. and St. Charles Parish. Since then the police are searching for him.
The grief stricken family of Ed Reed who are still in a maze about Brian Reed's whereabouts were shocked when they got to hear the news of the latter's disappearance. Brian Reed's mother Karen Reed stated that her son is a 'good person'. She also revealed that although Brian Reed had some tiff with drug related problems but lately he had got over it. The grief stricken mother also stated that she hopes her son is not in the water and that he is well alive. Ed Reed, brother of Brian Reed and the Baltimore Raven's safety was unavailable for any statements related to the incident.