Hue Jackson - New Oakland Raiders Coach
By Naiwrita Sinha, Gaea News Network
Tuesday, January 18, 2011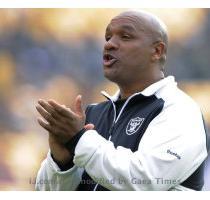 OAKLAND (GaeaTimes.com)-
Hue Jackson
for the first time will be assuming the role of a head coach after the Oakland Raiders decided to choose him as the team's new head coach. On Monday evening the Oakland Raiders announced that they have chosen the team's offensive co-ordinator for the last season Hue Jackson to lead the team. The announcement which broke out towards the later end of the day was a big achievement in Hue Jackson's career who is all set to lead the team from the next day.
The Oakland Raiders have already announced that Hue Jackson will be taking his new position as the head coach of the team from Tuesday itself. After the recent recruit of a new head coach, this is the sixth time in the last seven years that the team has gone for a change in its head coach. Hue Jackson's gain shortly after the Raiders had fired Tom Cable a few days back. Former coach Tom Cable was fired 13 days back. Apparently, the former coach's relation with the Oakland Raiders was not a pleasant one for he is even said to have punched one of the team's assistant coach.
That the team is happy with their new recruit became evident over the web after Oakland Raiders owner Al Davis was seen writing about the recent development in his Twitter posts. The team owner tweeted that Hue Jackson has that fire in him that will give an extra boost not only to the team's players but also to the whole team as well. The coaching experience of 25 years that Hue Jackson has is likely to bring in some upliftment in the Raiders's position.