Dez Bryant's Costly Dinner
By Tias, Gaea News Network
Thursday, September 30, 2010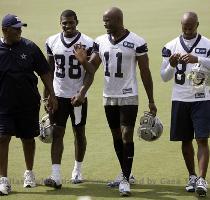 more images
IRVING (GaeaTimes.com)- Dez Bryant might not have expected that the price for not carrying his teammates' gear during training could be a whopping $54,896. Though the custom of rookie-picks-up-the-tab dinner is quite old, Dez Bryant was expecting only the attackers to come for the dinner. With more than 20 people turning up for the meal at a steakhouse, the receiver realized that the bill could just be jaw dropping. David Wells, Dez Bryant's adviser, said that the people had a 'goooood' meal. He joked that those who did not have lobster before had it that night.
On offer at the dinner were steaks, fish and plenty of beverages. David Wells explained that Dez Bryant knew what he had to do and there was no negativity about it. Though he himself was not present at the time the bill was paid, he said that the purpose was of the meal was served. Dez Bryant had the opportunity to interact and bond with his NFL teammates through the dinner. David Wells confirmed that the newbie had a good time with the guys.
Though the custom of carrying the shoulder pads of the teammates is well known in the NFL, Dez Bryant was not available for the ritual as he was, reportedly, not aware of the custom. His failure to adhere to the customs had also caused a slight tiff with veteran Roy Williams. Though he was expecting something like this coming his, he could not imagine the number of people turning up for the dinner, according to his adviser. Reports suggest that it was Roy Williams who invited the defense for the dinner.