Dwayne Bowe Gets Zero Catches
By Naiwrita Sinha, Gaea News Network
Monday, December 6, 2010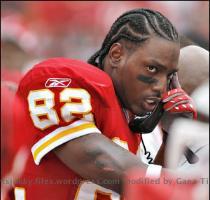 KANSAS CITY (GaeaTimes.com)- Those present at the Arrowhead Stadium in Kansas City on Sunday to witness the match between the Kansas City Chiefs and Denver Broncos saw one of the worst performances of Kansas City Chiefs receiver Dwayne Bowe. According to sources, though Kansas City Chiefs fans were elated that the team came out defeating the rivals with a score of 10-6, at the same time was in a pensive mood that the receiver who had made a stupendous performance in his last match against the Broncos had failed to live up to their expectations.
According to sources, football experts have termed this as one of the most unforgettable games of Dwayne Bowe's career. Not only did the fourth year receiver struggle on the field against the opponents, in fact the entire Kansas City Defense was seen struggling against the Denver Broncos, whom they ultimately managed to defeat. Interestingly this kind of performance from Dwayne Bowe came within a very short span of time of three weeks when earlier he had put up his brilliant performance against the same team catching 13 passes for 186 yards and then making his way for two touch downs. And this time he simply just could not get a single catch.
In spite of a win this is a key concern for the team officials since the players failed to put up a good show against the Denver Broncos who were struggling. However, Denver Broncos' corner back Champ Bailey impressed with his performance taking full control of Dwayne Bowe, but to his dismay lost out the game. Both Dwayne Bowe and quarter back Matt Cassel have to be in their top form next week for it is the San Diego Chargers whom they face next.