Kobe Bryant gets 17 of 44 points in 4th quarter, Lakers hold off Warriors 124-118
By Greg Beacham, AP
Wednesday, December 30, 2009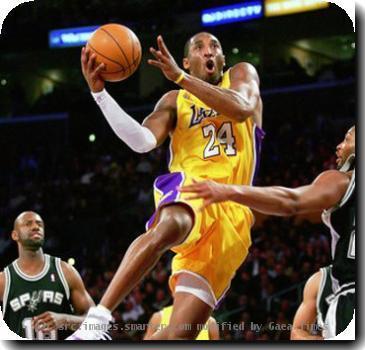 Kobe's 44 push Lakers past Warriors 124-118
LOS ANGELES — Kobe Bryant had a season-high 44 points and 11 assists while making all 16 of his free throws, and the Lakers survived Golden State's 55-percent shooting for a 124-118 victory over the Warriors on Tuesday night.
Pau Gasol had 27 points and 12 rebounds for the defending NBA champions, who relied even more heavily than usual on Bryant to avoid their third loss in four games over the past five days.
Bryant came through with 17 points in the fourth quarter, clinching his seventh 40-point game of the season on two free throws with 4:04 left. He has 103 40-point games in his career, third-most in NBA history.
Corey Maggette scored 25 points and Monta Ellis added 22 for the Warriors, who beat Phoenix and Boston in the previous three days during the best stretch of another rough start to a season.
Golden State shot superbly and ran its uptempo offense well, but had nobody who could guard Bryant in the Warriors' seventh straight loss to the Lakers. The Warriors haven't won three straight games yet this season.
The Lakers still have the NBA's best record (25-6) despite two 15-point losses in the previous three days, including their 102-87 Christmas flop against Cleveland. They also played their third straight game without starting forward Ron Artest, who gave himself a concussion and a deep cut on his left elbow when he tripped and fell at his home on Christmas.
In their first home game since their fans littered the court with foam hands in response to the Lakers' gripes about the officiating, Bryant and Lamar Odom both got technical fouls for arguing calls in the final 4:16. Los Angeles' complaining helped the Warriors keep within three points down the stretch until Bryant followed up Ronny Turiaf's two missed free throws with two foul shots of his own with 1:05 to play.
C.J. Watson scored 14 points while hitting four 3-pointers for the Warriors, who went 14 for 22 in the first quarter while opening with a clear burst of energy, perhaps still rolling from their impressive 103-99 win over the Celtics.
Pushing the tempo and finding Maggette for open shots, the Warriors scored 29 points the first 8:03 to take an 11-point lead that grew to 15 in the second quarter. Los Angeles rallied after halftime and took the lead midway through the period, but the Warriors hung around with scoring from Maggette and Ellis, whose layup in traffic evened it at 104 with 5:24 to play.
NOTES: Warriors C Andris Biedrins, who returned Monday from a lengthy absence with an injured groin, had six points and eight rebounds before fouling out. … Artest plans to run on a treadmill Wednesday to see how his body responds, saying he might try to play Friday against Sacramento. … Vladimir Radmanovic scored 11 points for the Warriors. Los Angeles traded him to Charlotte last season in a deal netting Shannon Brown and Adam Morrison from the Bobcats. Brown threw down a one-handed dunk in Radmanovic's face in the final minute of the first half. … Courtside fans included John McEnroe, Mario Lopez and Nicole Richie. Her longtime partner, rocker Joel Madden, wore a T-shirt reading "RIP The Rev" to honor Avenged Sevenfold drummer Jimmy "The Rev" Sullivan, who was found dead in Huntington Beach on Monday.