Jordan Farmar scores 24 points, Lakers rout Mavericks 131-96 for season's biggest win
By Beth Harris, AP
Monday, January 4, 2010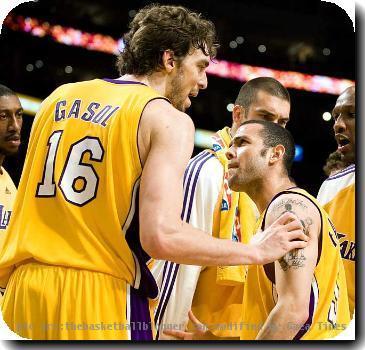 Farmar scores 24 as Lakers rout Mavericks 131-96
LOS ANGELES — Jordan Farmar led seven players in double figures with 24 points and the Los Angeles Lakers trounced the Western Conference's second-best team in a 131-96 victory over the Dallas Mavericks on Sunday night.
Andrew Bynum had 19 points on 8 of 8 shooting, five rebounds and four assists, Lamar Odom had 15 points and 15 rebounds, Kobe Bryant 15 points and eight assists, Sasha Vujacic and Shannon Brown 11 points each and Derek Fisher 10 for the defending NBA champions, who improved to a league-best 27-6.
For the first time in six games, the Lakers didn't go down to the wire to win or end up losing. Instead, they asserted their dominance in the West with their largest victory of the season. They shot a season-best 63 percent from the field.
It was the biggest victory in the series between the rivals, topping the Lakers' 33-point win on Dec. 1, 1993.
Dirk Nowitzki had 22 points and eight rebounds for the Mavs, who never led and shot poorly the entire game. Jason Kidd was scoreless in 27 minutes.
With Bryant distributing the ball, Odom took over rebounding and Bynum did a little of everything after Pau Gasol strained his left hamstring seven minutes into the first quarter. He didn't return after scoring six points and was expected to have an ultrasound Monday.
The Spanish forward sat out the first 11 games this season with a strained right hamstring.
The Lakers romped to a 40-point lead after three quarters, letting coach Phil Jackson go deep into his bench in the fourth. All 11 available Lakers scored. They outscored Dallas 52-36 in the paint while controlling the boards 44-40 and piling up 33 assists.
Nowitzki was the only Dallas player in double figures by halftime with 16, while the rest of the starting lineup combined for 11 points. Drew Gooden also was scoreless.
The Mavs shot a measly 16 percent in the first quarter, making just four baskets and missing all six of their 3-point attempts. They made eight field goals in the second and trailed 64-39 at halftime.
NOTES: F Ron Artest could rejoin the Lakers as soon as Tuesday after missing five games following a fall at his home on Christmas night. He's been cleared to practice fully Monday and if there's no problems, Artest could play Tuesday at home against his former team Houston. … Bryant tied Patrick Ewing for 15th on the NBA's career scoring list with 24,815 points. Last season, Bryant passed seven players while moving up the list. Next up is former Lakers GM Jerry West (25,192), a mentor for Bryant. … Mavs starting C Erick Dampier didn't play.