WEC 50: Anthony Pettis Wins
By Reema, Gaea News Network
Thursday, August 19, 2010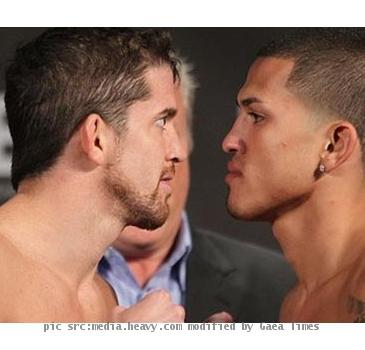 more images
LAS VEGAS (GaeaTimes.com)- The WEC 50 game on Wednesday night between Anthony Pettis and Shane Roller at The Palm turned out to be one of the most interesting and exciting game as both contenders tried their best to win the fight. The fighters in the WEC 50 title event went for a back and forth battle all over the ring that ultimately came to an end at 4:51 minutes into the third round. Shane Roller although came up with some brilliant moves, he lagged behind 2-0 and was on his way to lose the third when he went for a broke. However, taking the opportunity, Anthony Pettis went for a triangle choke and won the game. Anthony Pettis will now face the WEC champion Ben Henderson to win the title.
Although Shane Roller has remained a three-time All-American wrestler at Oklahoma State, on Wednesday at the WEC 50 event it was Anthony Pettis who stole the limelight. He went for some amazing grappling works and was able to abort the takedown attempts made by Shane Roller. When dumped to the mat by Shane Roller, Anthony Pettis was quick on feet to get back into action and put his opponent into potential submission points. Not only did Anthony Pettis abort the take down attempts by Shane Roller, he also went for takedowns on his opponent and was able to execute them brilliantly.
After the win of the WEC 50 event, an elated Anthony Pettis said that taking down Shane Roller was "pretty good". He praised his opponent as a tough guy and added that he had never been hit so many times in his face. As for Shane Roller, the fighter maintained that it was one of those nights when things were not "clicking".