Celeste Bonin Debuts In WWE NXT
By Swatilekha Paul, Gaea News Network
Thursday, September 9, 2010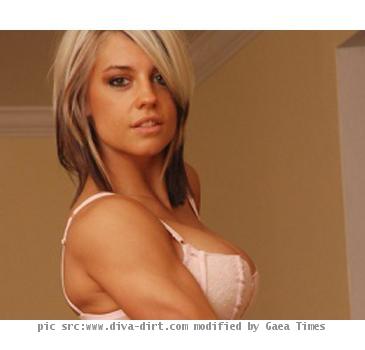 more images
LOS ANGELES (Gaeatimes.com)- Tuesday night the WWE (World Wrestling Entertainment) aficionados were introduced to newest diva on the block Celeste Bonin aka Kaitlyn. In a twisted story line which saw each of the divas competing against one another, Vickie Guerrero - the official consultant of WWE introduced Celeste Bonin to the audience. The 23 year old model from Texas who is also a body builder seemed quite impressive in her debut.
Celeste Bonin who goes by the ring name Kaitlyn was introduced by Vickie Guerrero as a possible replacement for another rookie diva called Aloisa. Aloisa was fired on last weekend by Vickie Guerrero herself after a fall out between the two. Her introduction to the WWE arena was quite an interesting one. She was re introduced to the fans by Vickie Guerrero (supposedly her mentor) after the latter found her introductory speech 'a not so impressive one'.
Tuesday's NXT episode witnessed all the divas competing against each other with the first challenge being a dance off between the divas. Celeste Bonin aka Kaitlyn took the ring and wowed the viewers with her impressive move. She even went on to invite commentator Josh Matthews in the ring. In another moment of the episode Vickie Guerrero along with Kaitlyn disrupts rookie diva AJ's victory in the NXT main event. When AJ asks them to hit the road Kaitlyn aka Celeste Bonin driven by Vickie Guerrero's orders laid a viscous attack on AJ.
Celeste Bonin's debut has been impressive enough and it seems that the newest diva is here to stay. She was previously working with WWE's development league FCE (Florida Championship Wrestling) under the name Ricki Vaughn.